When you have successfully created your RTB online account you will have options to manage your profile. The manage profile icon is situated at the top right side of the screen. When you click on the icon you will be provided with a dropdown menu giving the options:
My Profile
Documents
Receipts
Change Password
Logout
My Profile
When you click on 'My Profile' you are presented with the information entered when you created your account. Information that can be updated includes:
Mobile Number
Residential Address
Correspondence Address
User Roles
Communication Preference
If you are a company and wish to add branches click on my profile and choose Manage Branches from the drop down menu. Add the details of the branch administrator. Once you do this an email is sent to the email address you have entered for the branch administrator for them to reset their password.
Documents
The documents section allows you to view and download your RTB correspondence. To find a specific document you can search for it by typing key words, or the RT number in the search field at the top right side of the page.
Receipts
The receipt section allows you to view and download a receipt or multiple receipts for tenancies you have registered through your online account. To download a receipt, simply click the download button, where you can save or print a PDF.
How to print off a receipt
Please be advised the new system does provide receipts. When ou have completed the registration process, ou should get to a confirmation screen which gives the option to download a receipt. As seen below:

Alternatively, from the account homepage you can select the profile menu (highlighted below) and there should be a receipts option provided. From there, you can download the receipts for each transaction carried out.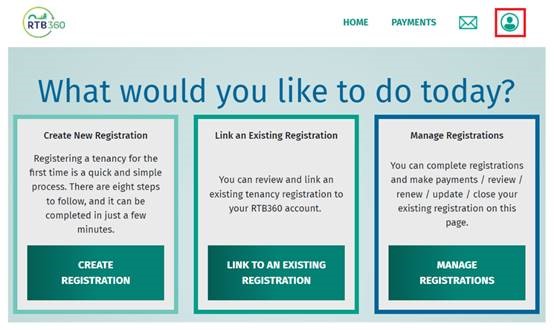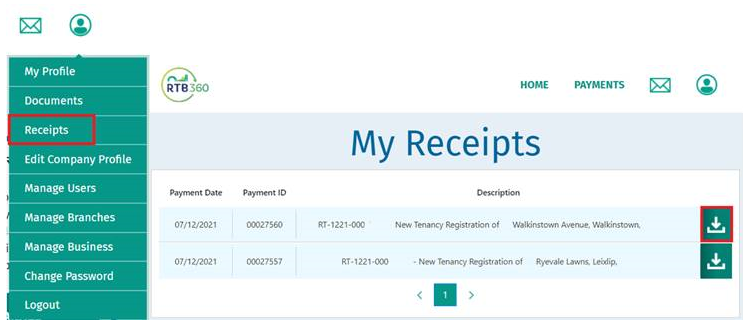 At 2:20 in the video below, it shows you how to access your receipts from the profile menu. Please note, it is a view from an individual account, so a company account menu will look sightly different but the receipts option is the same.
Change Password
When you click 'Change Password' you will be prompted to enter your current password and your new password. You must confirm your new password.
Logout
When you click the logout button this will log you out of your online account. The RTB encourages you to log out of your RTB online account at the end of each session.
Eircode Requirement
Please niote the RTB now require all tenancies being registered to have the correct Eircode applied to the address of the property. For more information click here