Sorting out a problem can lead to a less stressful and a more positive relationship in a tenancy. If an issue arises between a landlord, tenant or neighbour then efforts should be made to resolve the issues between themselves.
It is important for everyone to understand their rights and responsibilities. For example, landlords must be available to carry out repairs and tenants must allow the landlord to facilitate repairs and inspections. Communication is key and discussing concerns at the beginning can lead to a positive tenancy.
If you are landlord, tenant or are a third party in dispute, who cannot resolve any issues themselves, there are options available to resolve the dispute within the RTB.
Mediation
Mediation is a voluntary process and works as parties can discuss their issues thoroughly with one of our highly trained Mediators, who can facilitate a resolution using their expert knowledge on the legislation, the rights and obligations of parties and the procedures to follow around tenancies.
Mediation focuses on the interests or needs of the parties and on solutions, not on determining or assigning blame. The mediator does not impose a solution but rather works with all parties to create their own solution. All parties should participate in the mediation in the spirit of compromise with the goal and intention of achieving a settlement of the case.
Mediation is carried out via a Telephone call directly with the Mediator, so the parties do not need to talk directly to each other, the Mediator through a series of separate phone calls, will listen to both parties and ensure to grasp a full understanding of the issue(s) at hand and work with both parties find a mutually acceptable solution to resolve the matters in dispute.
Parties are asked to submit a Position Statement outlining what they hope to achieve and the key issues which have prevented achieving them before the Mediation Hearing to increase the chances of a successful outcome.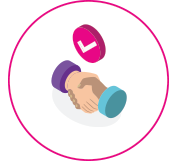 There are many types of disputes that can arise over the duration of a tenancy. The most common disputes brought to the RTB are:
validity of a Notice of Termination;
unlawful termination of tenancy;
rent arrears;
deposit retention;
and rent arrears with overholding.
Other dispute types include:
anti-social behaviour;
breach of fixed term lease;
breach of landlord/ tenant obligations;
damage in access of normal tear and wear;
when the rent is more than the market rate;
rent review not in line with Rent Pressure Zone;
and standard and maintenance of dwelling.
Third parties are those who are directly and adversely affected by neighbouring tenants and have the right to bring a case against the landlord of those tenants.
If you are having issues with a neighbour who is a tenant, you can apply for dispute resolution as a third-party applicant here.
All parties involved in a dispute should initially try to resolve the matter directly themselves. If the person who is affected contacts the landlord about anti-social behaviour, the landlord can send a letter to the tenant once the complaint is received. This letter requires the tenant not to behave in the dwelling or in its vicinity in an anti-social manner. A sample of this letter can be downloaded here.
A landlord has a duty to enforce the responsibilities of the tenant(s) in a tenancy where the neighbours are affected (for example anti-social behaviour). In cases where a landlord fails to enforce a tenant's responsibilities, a person directly and adversely affected may take a case against the landlord through the Residential Tenancies Board (RTB). If the affected party is unable to identify or contact the landlord, they can make a formal request for the landlord's and/or letting agent's (where applicable) name and address (if registered) from the RTB.
Any complaints of a serious anti-social or criminal nature should be reported to the Gardaí in the first instance.
The case will be heard by an independent RTB adjudicator or mediator. In the interest of fairness, tenants will be a notice party to a third-party case. This means they will be copied on information relating to the case, receive all evidence submitted by both the landlord and third party and can attend an adjudication hearing, if they wish. Landlords can also be ordered to make substantial payments to affected parties for the distress caused by their failure to enforce their tenants' responsibilities.
The applicant should enclose relevant documentary evidence in support of their case e.g. log of events, photographs, witness statements or Garda reports (where applicable). Please click here for a Guide to Submitting Evidence.
Please note: any third-party issues in relation to the standard and maintenance of a rental dwelling are a matter for local authority enforcement and the RTB does not have jurisdiction to deal with such complaints. It should also be noted that in order to provide a fair and neutral service to all parties, the RTB are unable to provide legal advice or specific guidance to either party in relation to their dispute.
Helpful Questions and Answers
If there are multiple applicants on your application, please nominate one person to be the point of contact for the mediator to contact on the day of your mediation.
The mediations are on Monday – Friday at 10am, 11:30am and 14:15pm. If you have certain days/times that you are unavailable, please notify the RTB immediately and we will try our best to accommodate you.
Mediation is not an evidence-based process.
Case parties should solely submit a 'Position Statement' and any key documents which are relevant to the case to outline the issues that are important to you.
Evidence is not circulated to the other side prior to the telephone mediation hearing date.
You should ensure that any personal data and confidential information is blocked out/redacted.
Please click here to download a position statement.
The RTB encourages all parties to a mediation to fill out and return the 'Mediation Position Statement' which you will receive. This document will never be shown to the other party. By filling out this document the mediator can begin to understand what is important to you and can use the time allocated to focus on a mutually acceptable solution.
On the day of your mediation both parties are contacted individually by telephone and, through a series of calls over a period generally lasting no more than 1.5 hours, the mediator facilitates the parties in coming to an agreed resolution.
You will not have to speak with the other party to the dispute.
The time and date for your telephone mediation will be issued by post and/or email.
At the end of the hearing, the Mediator will inform all parties the next step.
The RTB will also confirm this step in writing following the hearing.
If either party is not satisfied with the outcome of the hearing, they may refer the mediation to a tenancy tribunal, which will mean a re-hearing of the case and require evidence to be submitted in order for them to make a decision.
An application for Tribunal must be submitted within 10 calendar days from the date the Mediation ends.
RTB s109 Dispute Resolution Procedural Rules